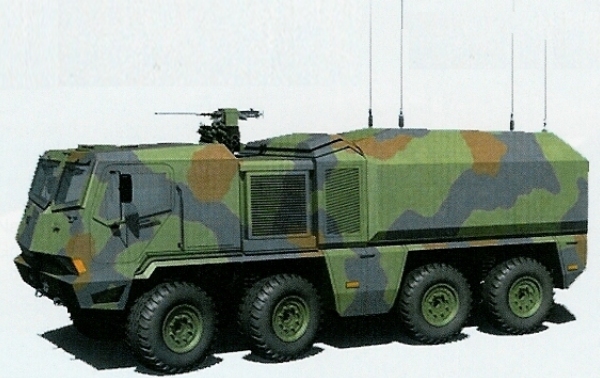 The Wisent 8x8 armored transport vehicle was developed by Rheinmetall to meet the German Army requirement. The first vehicle was completed in 2008. Trials are expected to be completed in 2009. Wisent is a part of the GFF vehicle programme, which is intended for peace support operations and is broadly similar to the US MRAP programme. German Army requirement is for up to 250 wheeled armored vehicles of this type. The Rheinmetall Wisent is competing against the Krauss-Maffei Wegmann Grizzly for this requirement. The winner will complement the Boxer armored personnel carrier, which is currently in service with the Bundeswehr.

The Rheinmetall Wisent fills the gap between the Dingo 2 MRAP and Boxer APC. Vehicle has a payload capacity of 6 000 kg. It can be fitted with various removable mission modules. This armored vehicle can be customized as troop transport, ambulance or command vehicle. Wisent has a crew of 2 - 3 men, seated inside the cab and provides accommodation for up to 10 troops inside the mission module.

Forward cab and mission module have a high level of protection against various threats, including direct fire, artillery shell splinters, mine blasts and improvised explosive devices. It provides protection against 7.62-mm armor-piercing rounds and can withstand 8 kg mine explosion under the hull. Cab is fitted with NBC protection system.

Vehicle can be fitted with remotely controlled weapon station, armed with 7.62-mm, 12.7-mm machine guns or 40-mm automatic grenade launcher. It is fired under complete armor protection.

Chassis of this vehicle was developed by Rheinmetall. It incorporates a number of proven automotive components. Wisent is powered by a MAN turbocharged diesel engine, developing 430 hp. The front cab can be tilted forward for maintenance purposes. Wisent has adjustable passive suspension, however active suspension system is planned. Vehicle has a high cross-country mobility. It is air transportable by the C-130 Hercules transport aircraft.