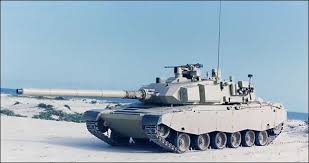 The Osorio main battle tank was developed during the mid-1980s by Engesa both for Brazilian Army and export customers. This MBT was developed as a private venture, with only little support from the government. The first prototype was completed in 1985, the second followed in 1986. Generally it was a successful design, however due to the lack of funding it was not accepted to service with the Brazilian Army. This MBT also received no production orders from export customers. Eventually the Osorio project was abandoned and Engesa went bankrupt. Currently Brazilian Army operates ageing M60 and Leopard 1 main battle tanks.

The Osorio tank is fitted with composite armor at the front of the hull and turret. This armor is broadly similar to the British Chobham. It includes steel, aluminum, carbon fibers and ceramics. Vehicle has automatic fire supression and NBC protection systems. It is considered that protection of this tank was inferior to most western MBTs of that time.

The EE-T1 Osorio MBT, intended for Brazilian Army, was armed with a British L7A3 105-mm rifled gun. The EE-T2 was intended for export customers and was armed with a French GIAT 120-mm smoothbore gun. Both of these guns are fully-stabilized and manually loaded. The EE-T1 carries 45 rounds, while the EE-T2 - 38 rounds. The EE-T2 main battle tank has a hit probability of 80% at 2 km range against moving target.

Secondary armament of the EE-T1 consists of two 7.62-mm machine guns. One of them is mounted coaxially, while another is placed on top of the roof. The EE-T2 is completed with coaxial 7.62-mm machine gun and 12.7-mm roof-mounted anti-aircraft machine guns.

Vehicle has a crew of four, including commander, gunner, loader and driver.

The Osorio main battle tank is powered by German MWM TBD 234 diesel engines, developing 1 040 horsepower. Engine and transmission are mounted in a single block and can be replaced within 30 minutes in field conditions. Vehicle has a hydropneumatic suspension system. The Osorio uses tracks of the Leopard 2 MBT.